Estate Planning Council of Broward's November Dinner Event
Date:
Thursday, November 17, 2022
Location:
Tower Club Fort Lauderdale, 100 SE 3rd Ave, One Financial Plaza, Regions Bank Bldg., 28th Floor, Ft. Lauderdale, FL. 33394
Speaker:
George Karibjanian, Esq. - Estate Planning with IRAs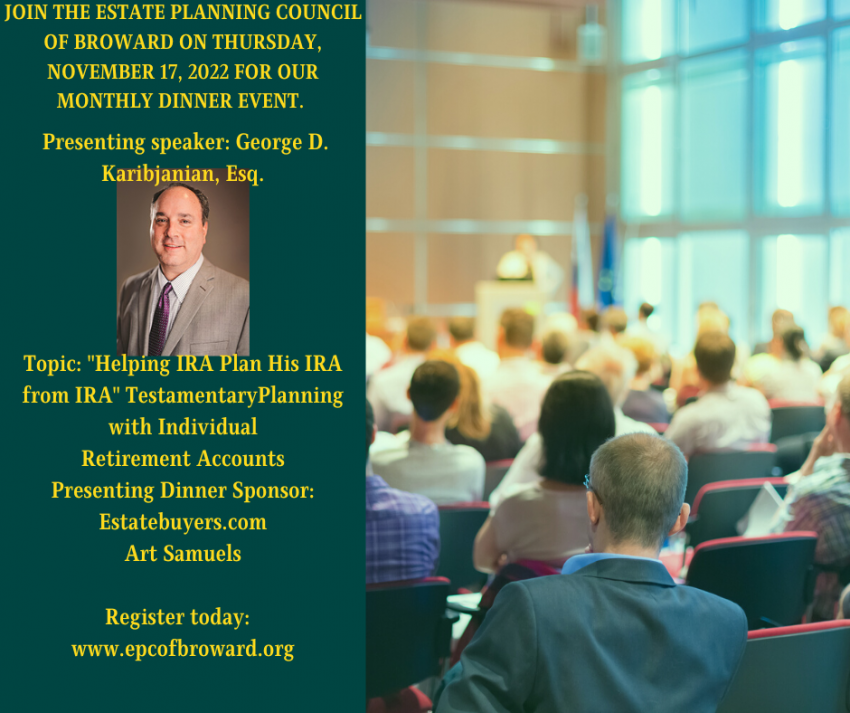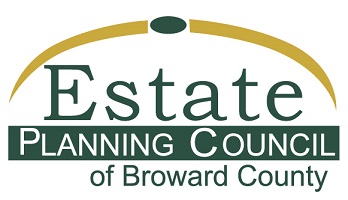 Join the Estate Planning Council of Broward, Inc., on Thursday, November 17, 2022 for the monthly dinner event.
Cocktail hour and networking will begin at 5:30 P.M. Dinner and the presentation will immediately follow. Your RSVP is required on or before November 15, 2022. Guests tickets are $95 and should be paid when submitting your RSVP.
Register today: https://www.epcofbroward.org/events/event/22592

Presenting speaker: George D. Karibjanian, Esq.
Topic: "Helping IRA Plan His IRA from IRA" Testamentary Planning with Individual Retirement Accounts
George D. Karibjanian is a Founding Member of Franklin Karibjanian & Law, a national boutique law firm based in Washington, D.C., with additional offices in Boca Raton, Florida and Naples, Florida. George is Board Certified by the Florida Bar in Wills, Trusts & Estates and is a Fellow in the American College of Trust and Estate Counsel, and is licensed to practice in Florida, D.C., Maryland and Virginia.
George divides his time between the firm's Boca Raton and Washington offices, spending the majority of his time in Boca Raton.
He earned his B.B.A. in Accounting from the University of Notre Dame in 1984, his J.D. from the Villanova University School of Law in 1987, and his LL.M. in Taxation from the University of Florida in 1988. George has practiced his entire legal career in South Florida (over 33 years), practicing exclusively in the areas of estate planning and probate and trust administration, and also represents numerous clients with respect to nuptial agreements. George has participated in over 200 formal presentations, either individually or as part of a panel discussion, to national, state-wide and local groups, and has over 80 publication credits in national and regional periodicals and journals. Born and raised in Vineland, New Jersey (in the heart of South Jersey), George has called Boca Raton home since 1988.
On the topic of the Uniform Voidable Transactions Act and its potential negative effect on estate planning, George has published many articles and has lectured in cities across the nation such as Las Vegas, Nashville, New York, Phoenix, Portland (Or.), San Diego, San Francisco, and Wilmington (Del.), and presented webinars to groups in South Dakota and Alaska. George has also presented on the topic in October 2016 at the 42nd Annual Notre Dame Tax and Estate Planning Institute in South Bend, Indiana.
On the topic of same-sex estate planning, George has lectured at various conferences and estate planning councils throughout the United States and has published numerous articles in publications such as Steve Leimberg's LISI Estate Planning Newsletters, Trusts & Estates Magazine and the Florida Bar Journal. George has also been quoted by several publications and websites.
George was a presenter at the 48th Annual Heckerling Institute on Estate Planning in Orlando in 2014, speaking on a panel discussion titled, "Living and Working with the Uniform Principal and Income Act," focusing on the tax effects on the power to adjust trust principal to income, the power to convert an income trust to a unitrust, comparing the various unitrust statues and focusing on potential litigation facing fiduciaries in this area.
George's other lectures have included topics such as Portability, Decanting, Trustee Selection and Duties, the Principal and Income Act, Current Developments in Estate Planning and Taxation, Representing a Client with Potential Capacity Issues, Whether a Supplemental 706 is Required, Inter-Vivos QTIP Planning, Prenuptial Agreements for the Estate Planner, Florida Homestead and the Advantages and Disadvantages of Domestic Asset Protection Trusts.
Diamond Presenting Dinner Sponsor:

Thank you for your continued support.
Not a Member of the Estate Planning Council? If you join today, then this Dinner Meeting is included in your membership.
Estate Planning Council of Broward, Inc.,
2699 Stirling Road, Suite 200B,
Ft. Lauderdale FL. 33312