About Us
MESSAGE FROM THE ESTATE PLANNING COUNCIL OF BROWARD, INC.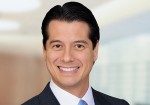 Craig C. Chuang, CFA, CFP®
Estate Planning Council of Broward County
President
2019-2020
Dear Estate Planning Council of Broward County Members:
It is my distinct honor to be serving as your president for the upcoming 2019-2020 membership year. We know the importance of providing programs that will not only educate our members, but also provide a forum to build new strategic alliances and further each member's presence in the estate planning community. It is with this focus that we are working diligently to maximize your benefit and provide the best opportunities to take advantage of our resources. We have an informative group of speakers planned for our four dinner meetings which are held at the scenic Tower Club in downtown Fort Lauderdale.
Our fall and spring social events will provide an informal setting to connect with fellow members. We look forward to building off of last year's two successful events, one of which challenged our members in a team format at an escape room and the second of which brought our members together via a unique wine tasting experience.
We also recognize the importance of our sponsors and the value they provide to our membership as well as the role they serve in our community. We are very thankful for our sponsors who allow us to carry out our dinners and social events.
We thank you for you continued support and look forward to a successful 2019-2020 membership year!
Sincerely,
Craig C. Chuang, CFA, CFP®
President, Estate Planning Council Broward County 2019-2020