3rd Dinner Meeting - January 23, 2020
Date:
Thursday, January 23, 2020
Speaker:
Robert W. Goldman, Esq., Goldman Felcoski & Stone P.A.



Sveen

, 

Kaestner

 




and the ACTEC Amicus Process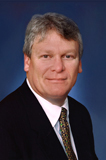 Robert Goldman, Esq.
Goldman Felcoski & Stone, P.A. 
The ACTEC process for befriending courts and a thorough analysis of the last two trust and estates cases in which ACTEC was involved at the United States Supreme Court, its implications and issues to consider. In Sveen v. Melin, the U.S. Supreme Court held that the retroactive application of Minnesota's revocation-on-divorce statute, which automatically nullifies an ex-spouse's beneficiary designation on a life insurance policy or other will substitute, does not violate the Contracts Clause of the Constitution. On June 21, 2019, the U. S. Supreme Court ruled in North Carolina Dept. of Revenue v. Kaestner 1992 Family Trust that the presence of in-state beneficiaries alone does not empower the state to tax income accumulated in a trust.
This presentation has applied for 1 hour of continuing education credit
for the following disciplines:
CLE (legal), CFP® (Certified Financial Planners) and CPE(Accountancy)
Members' meals are included with your paid dues for the 2019-2020 year. Our prices include one drink ticket and free VALET parking at the Regions Bank Building. You can also park in the Tower Club parking garage for a $5 charge.
* You Must Be Signed in to RSVP for the Event.
Please remember to RSVP, no later than Monday, January 20, 2020, so we can plan accordingly. We expect a large turnout for this wonderful event.
This Meeting is generously sponsored by